"HANDS-ON" HOME & OFFICE ORGANIZING
SERVING THE SANTA CLARITA VALLEY IN SOUTHERN CALIFORNIA
GARAGE out of control?........ FILES in disarray?...... OFFICE too cluttered?

PAPERS misplaced?................HOME a mess?.............DESKS overflowing?

CLOSETS need revamping?.... TOYS everywhere?... BOOKS out of order?

PHOTOS need sorting?........TOOLS need organizing?

"Welcome! I'm Bob Farkas, THE CLUTTER WIZARD, a hands-on professional organizer
who creates order and manages all of the out-of-control places in your home and/or office.
I go through years of your accumulated clutter and weed through papers, create efficient
storage spaces, set up filing systems, streamline closets and, in general, create harmonious
and productive living and working environments. And I do it all confidently, patiently and
with a sense of humor. It's a confidential, painless and comfortable process."

HOMES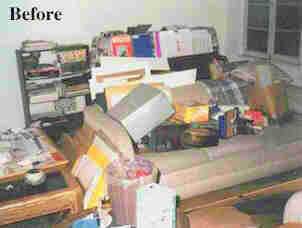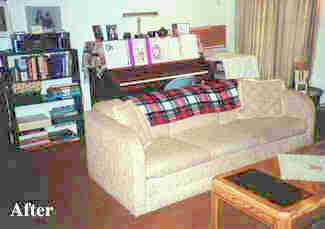 OFFICES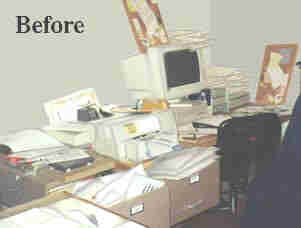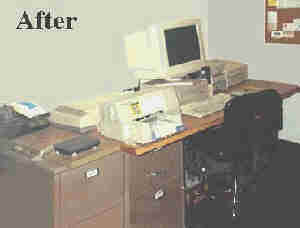 Too much stuff, too little space?
Frustrated? Stressed out? Overwhelmed?
Ready for a fresh start?
Don't know where to begin?
Call me!



Bob Farkas
661.298.9100






or e-mail me at
theclutterwizard@gmail.com
---



LISTEN TO A KHTS AM-1220, SANTA CLARITA INTERVIEW WITH BOB FARKAS, THE CLUTTER WIZARD, HERE!


---
SEARCH THE WEB WITH WEBSEARCH.COM



Home storage solutions, products and organizing tips.




@LA THE GUIDE TO GREATER LOS ANGELES AND SOUTHERN CALIFORNIA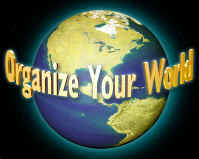 Products, services, news and information
for organizing everything in your home and business.



---


Home Page ----- Why Use The Clutter Wizard?

Overview ----- Bedrooms ----- Closets ----- Kids' Rooms

Bathrooms ----- Kitchens ----- Garages & Attics

Storage ----- Office & Work Spaces

Household Filing System ----- Keeping Emergency Files

Paperwork Tips ----- Developing Good Habits ----- Time Management Tips

Donating Your Clutter ----- Links to Related Sites

What Clients Say ----- Locations Served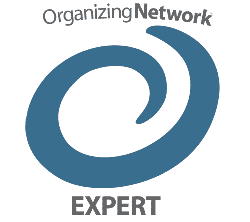 Member of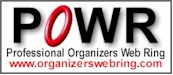 The Clutter Wizard is a top professional organizer in Southern California on FindMyOrganizer.com!

THE CLUTTER WIZARD website designed and maintained by Bob Farkas.
Copyright © Bob Farkas 2000-2019. All Rights Reserved.
No portion of this website may be reproduced or redistributed without prior written consent and permission.
All contents are under copyright protection.
SITEMAP
http://www.theclutterwizard.com/paper.htm 2014-07-04 Daily 1 http://www.theclutterwizard.com/timetips.htm 2014-07-04 Daily 1 http://www.theclutterwizard.com/ 2014-07-04 Daily 1 http://www.theclutterwizard.com/bedrooms.htm 2014-07-04 Daily 1 http://www.theclutterwizard.com/kitchens.htm 2014-07-04 Daily 1 http://www.theclutterwizard.com/whycb.htm 2014-07-04 Daily 1 http://www.theclutterwizard.com/bath.htm 2014-07-04 Daily 1 http://www.theclutterwizard.com/grg_atc.htm 2014-07-04 Daily 1 http://www.theclutterwizard.com/homefile.htm 2014-07-04 Daily 1 http://www.theclutterwizard.com/index.htm 2014-07-04 Daily 1 http://www.theclutterwizard.com/kids.htm 2014-07-04 Daily 1 http://www.theclutterwizard.com/links.htm 2014-07-04 Daily 1 http://www.theclutterwizard.com/location.htm 2014-07-04 Daily 1 http://www.theclutterwizard.com/papers.htm 2014-07-04 Daily 1 http://www.theclutterwizard.com/clients.htm 2014-07-04 Daily 1 http://www.theclutterwizard.com/closets.htm 2014-07-04 Daily 1 http://www.theclutterwizard.com/donating.htm 2014-07-04 Daily 1 http://www.theclutterwizard.com/habits.htm 2014-07-04 Daily 1 http://www.theclutterwizard.com/overview.htm 2014-07-04 Daily 1 http://www.theclutterwizard.com/storage.htm 2014-07-04 Daily 1 http://www.theclutterwizard.com/work.htm 2014-07-04 Daily 1