HOME PAGE

WHY USE THE
CLUTTER WIZARD?


OVERVIEW


BEDROOMS


CLOSETS


KIDS' ROOMS


BATHROOMS


KITCHENS


GARAGES & ATTICS


STORAGE


OFFICE & WORK SPACES


HOUSEHOLD
FILING SYSTEM


KEEPING
EMERGENCY FILES


PAPERWORK TIPS


DEVELOPING GOOD HABITS


TIME MANAGEMENT TIPS


DONATING YOUR CLUTTER


LINKS TO
RELATED SITES


WHAT CLIENTS SAY
---
HOME PAGE

WHY USE THE
CLUTTER WIZARD?


OVERVIEW


BEDROOMS


CLOSETS


KIDS' ROOMS


BATHROOMS


KITCHENS


GARAGES & ATTICS


STORAGE


OFFICE & WORK SPACES


HOUSEHOLD
FILING SYSTEM


KEEPING
EMERGENCY FILES


PAPERWORK TIPS


DEVELOPING GOOD HABITS


TIME MANAGEMENT TIPS


DONATING YOUR CLUTTER


LINKS TO
RELATED SITES


WHAT CLIENTS SAY
---
HOME PAGE

WHY USE THE
CLUTTER WIZARD?


OVERVIEW


BEDROOMS


CLOSETS


KIDS' ROOMS


BATHROOMS


KITCHENS


GARAGES & ATTICS


STORAGE


OFFICE & WORK SPACES


HOUSEHOLD
FILING SYSTEM


KEEPING
EMERGENCY FILES


PAPERWORK TIPS


DEVELOPING GOOD HABITS


TIME MANAGEMENT TIPS


DONATING YOUR CLUTTER


LINKS TO
RELATED SITES


WHAT CLIENTS SAY
---
HOME PAGE

WHY USE THE
CLUTTER WIZARD?


OVERVIEW


BEDROOMS


CLOSETS


KIDS' ROOMS


BATHROOMS


KITCHENS


GARAGES & ATTICS


STORAGE


OFFICE & WORK SPACES


HOUSEHOLD
FILING SYSTEM


KEEPING
EMERGENCY FILES


PAPERWORK TIPS


DEVELOPING GOOD HABITS


TIME MANAGEMENT TIPS


DONATING YOUR CLUTTER


LINKS TO
RELATED SITES


WHAT CLIENTS SAY
---
HOME PAGE

WHY USE THE
CLUTTER WIZARD?


OVERVIEW


BEDROOMS


CLOSETS


KIDS' ROOMS


BATHROOMS


KITCHENS


GARAGES & ATTICS


STORAGE


OFFICE & WORK SPACES


HOUSEHOLD
FILING SYSTEM


KEEPING
EMERGENCY FILES


PAPERWORK TIPS


DEVELOPING GOOD HABITS


TIME MANAGEMENT TIPS


DONATING YOUR CLUTTER


LINKS TO
RELATED SITES


WHAT CLIENTS SAY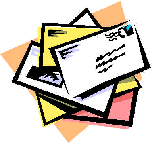 PAPER MANAGEMENT TIPS


Piles of paper are often the toughest type of clutter. Paper accumulates so quickly and there is a never-ending stream ariving on our doorsteps from every area in our lives. Here are some handy tips from BOB FARKAS, THE CLUTTER WIZARD, about how to keep your paperwork from getting out of control. I've included tips about...
Files --- Business Cards --- Bills and Mail --- Taxes
Check Registers --- Bank Statements & Cancelled Checks
Home Business Receipts --- Pictures --- Scheduling Paperwork
Reducing Paper --- Changing Your Paperwork Habits
---
Staple papers together instead of using paper clips because paper clips often get caught on other papers.

Never keep entire magazines in a file. Look for any important articles, cut them out, staple the pieces together and file them.

Store your valuable papers in a safe deposit box or a fireproof safe.

Keep your filing system updated regularly.
---
Get a Rolodex, wheel-type, card file or a three-ring binder with clear plastic business card pages to hold hundreds of business cards without taking up too much desk or bookshelf space.

Try to categorize your business cards by industry or profession if it makes sense for your specific needs.

Writing the date down on the back of each business card will help you decide about when it's time to toss it.
---
File your mail and bills right when they arrive so they don't get misplaced.

Check each bill and write the total and the date you plan to schedule payment right on the bill's original envelope.

Put the bill in a holding area where you can see the date..

Schedule a regular time and have a specific place to actively read through your mail and pay your bills.

Pay bills at the beginning of each week for bills that are due that week. This way you'll never have too many bills to pay at any one time and the process should be relatively quick.

Toss those extra advertising inserts that come with your bills.

File your bills immediately after you pay them so you don't have to deal with them again.
---
Store tax forms in a single large pocket folder.

Categorize your bills and invoices using envelopes. Make categories that are appropriate for your situation.

Subcategorize things like credit card bills into VISA bills, Mastercard bills, Discover bills, American Express bills, etc. The more you subcategorize the easier it is to find and to document later.

Backup paper with online accounts. Most banks and credit card companies provide online account management. It may be wise to create online accounts so, for example, if you have online receipts or statements for expenses paid with a business credit card from American Express or other financial institution you can get a copy easily if you lose the paper original.

Label and date the outside of all envelopes.

Put the pocket folder along with all your envelopes into one larger manila envelope (remember to label it with your name and the year) and submit it to your tax accountant.

When you get it all back, file the large manila envelope with the most recent year first.

Most tax returns and documentation only need to be kept for seven years. Some businesses and professions need to maintain their records indefinitely. Check this out before tossing your tax records.
---
Always date your check registers with the range of dates it includes and the range of check numbers it includes --- April 10, 1999 to September 12, 1999, check numbers 1312 to 1418.

Change registers at the end of each year even if there's room left in the register. It's just easier to keep records by year than to mix years.

For tax documentation write in who the check is to and what the check is for.
---
BANK STATEMENTS AND CANCELED CHECKS
Reconcile your statement every time you get one.

Make sure all ATM and service fees are shown on each statement.

Let the bank keep your canceled checks so you don't have to store them.

If you ever need to document a payment by personal check just ask your bank for a copy.

If you do keep canceled checks, keep them in a separate box in numerical order. Don't keep them with the bank statements.
---
Keep your business expenses / receipts in a separate area from your household files. These might include auto repair and maintenance, business entertaining, computer equipment and supplies, continuing education, gasoline, office supplies, parking, photocopying, professional membership fees, publications, rent, telephone, etc.

Create separate folders or envelopes for each category of business expense.

Place each receipt or bill in its own folder or envelope immediately as it comes in.

Every time you put a paid receipt or bill into its folder or envelope write down how much was paid on the front of each envelope or folder.

For tax purposes simply add up your business expenses which are listed on each folder or envelope.

Submit a list of expenses to your tax accountant. You won't have to pay them to go through all your receipts.
---
Sort through boxes and eliminate poor shots.

Give away or toss photos that have little meaning to you.

Keep the negatives only if you think you'll need them for additional copies.

Write a brief description on the outside of the negatives' envelope.

Don't write directly on pictures. Use an acid-free adhesive label instead.

Sort photos in chronological order or by categories like "trips".

If you have many pictures of one event you may want to write a brief description of the event instead of labelling each individual picture.

Use albums with acid-free paper.

Consider using three-ring albums which allow you to add pages to them.
---
On a regular schedule, set aside at least one private hour every week for paperwork. This way you'll never get behind.

Prioritize. First do the financial stuff. Pay your bills, balance your checkbooks, reconcile any investment statements. Next do any paperwork that's left. Write a note to a teacher, fill out an application form, etc.

File everything away immediately so you don't have to deal with it again.
---
Cut down on the number of bank accounts you have.

Reduce the number of credit cards you have to one card for personal use and one for business use.

Cancel some of your more obscure magazine and newspaper subscriptions.

Pay any bills you can by automatic deduction.

Write to the following address and ask them to remove you from their direct mail lists: Mail Preference Service, Direct Marketing Association, P.O. Box 9008, Farmingdale, NY 11735-9008.
---
Don't let even one day go by without making time to put things into their proper places.

File or pay bills right when you get them. Don't put them down to get lost in the shuffle.

Respond to invitations and notices as they arrive and mark any dates on a calendar immediately.

Open your mail near the trash can and toss what you don't need.

Keep making those tough decisions about what to keep and what to throw away.



For an appointment please call
BOB FARKAS
661.298.9100
Serving the Santa Clarita Valley, The San Fernando Valley and Los Angeles


---

Home Page ----- Why Use The Clutter Wizard?

Overview ----- Bedrooms ----- Closets ----- Kids' Rooms

Bathrooms ----- Kitchens ----- Garages & Attics

Storage ----- Office & Work Spaces

Household Filing System ----- Keeping Emergency Files

Paperwork Tips ----- Developing Good Habits ----- Time Management Tips

Donating Your Clutter ----- Links to Related Sites

What Clients Say ----- Locations Served



THE CLUTTER WIZARD website copyright © Bob Farkas. All Rights Reserved.